Without a set of brakes inside your car, you'd find it difficult to slow down at a red light, make a controlled turn into a parking lot, avoid an accident, and so much more.
However, if you don't know what to look for, you may not know when it's time for you to seek out a trusted mechanic for a brake replacement.
Luckily, we're here to help drivers of Belleville, O'Fallon, and Columbia with this guide to the 4 Signs That You Need Your Brakes Replaced, created by Oliver C. Joseph. With this list of tips and tricks, you'll understand more about how to properly care for your brakes and keep your family safe.
Brake Dullness
Imagine it: you're sailing down the road without a care in the world. You go to apply your brakes, and they don't respond quite as quickly as they normally do. Not only can this be a little nerve-wracking, but it may also have you wondering why your brakes are less responsive than usual.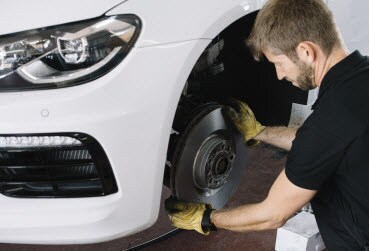 Squishy brakes usually result from air that's trapped inside the brake lines, or a possible fluid leak. To spot a leak, all you need to do is check underneath your car once you move it from its spot in your driveway. If you see a puddle of liquid, your brakes are likely feeling mushy due to a brake line leak.
Once you notice this issue, be sure to schedule an appointment with your service center to have your brakes replaced or your brake lines repaired. That way, you'll avoid any collisions or issues with your automobile.
Pulling from Your Brakes
Another telltale symptom that you may need a brake replacement is when you notice any pulling movements when you apply your brakes. Although, this could be a sign of a few different issues, it typically means that there's an unusual substance within the brake lines, or that your brake pads have worn unevenly.
No matter which of these problems are the case for your vehicle, you'll want to have the issue addressed by a professional technician as soon as possible. By continuing to operate your car with uneven brake pads, it's possible that you'll see further damage to other parts of your ride.
Shaking and Vibrations
Between driving along windy back roads and coursing down the freeway at high speeds, you're bound to feel your automobile juke and jive a bit. However, when you feel a persistent vibrating coming from your vehicle when you press the brakes, you'll want to give it your utmost attention.
Because brake vibrations are caused by warped rotors, it's essential to make sure that this problem is addressed quickly. If not, you could risk further damage to your brakes and rotors, which may result in a brake replacement.
Grating and Screeching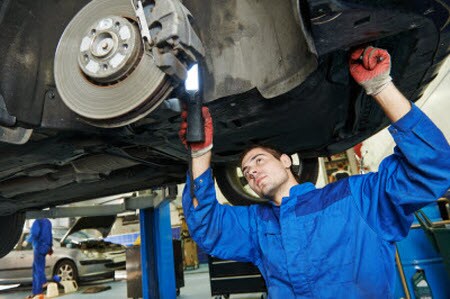 Grating and grinding typically start once the brake pads have completely worn down. After you hear this noise, it's likely that the brake pads are beyond replacing. That's because grinding sounds usually indicate that the disc and the caliper are rubbing together, which results in scratching and damage to the rotors.
The best way to avoid any harm to your braking system is to visit your service center as soon as you hear screeching. This sound comes from the brake indicator that's designed to emit a warning when your brake pads are close to being completely depleted. By stopping by a repair facility when you hear this sound, you'll avoid any expensive replacements to your brakes.
Visit Our Service Facility Today!
We know how hard you work to care for your vehicle. So, when you notice any of the signs listed in this 4 Signs You Need Your Brakes Replaced guide, feel free to consult our team of experienced mechanics at Oliver C. Joseph by giving us a call or stopping by our center today!
We're proud to serve the communities of Belleville, O'Fallon, and Columbia with quality brake replacement services.