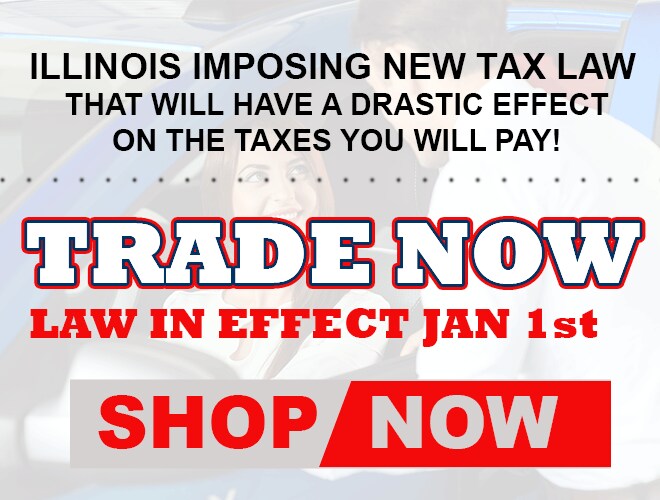 THE TIME IS NOW...
           
    • This new law goes into effect on Jan 1st!                     
                     • With a $30,000 trade you will pay an extra $1,748 in taxes!
                   • Save in taxes NOW & Get 110% of KBB Trade Value*!                 
                  • Get into a newer vehicle with possibly lower payments!

                                        

              Oliver C. Joseph wants to make you aware of the Illinois Resident tax law that will have a drastic effect on your current vehicles value!   J.B. Pritzker recently signed a bill that will apply Illinois sales tax to any vehicle trade-in worth over $10,000.  That means if your current vehicle is worth $30,000 you will pay an extra $1,748 additional in taxes come Jan 1st!                                 
                             


       This does, however, give you the perfect reason to get  into a newer car NOW!

                                                                                                              

Learn More Now
*See dealer for details.  Value & condition determined by dealership at onsite visit.  Can not be combined with other offers.  Must present prior to negotiations and not eligible on previous purchase.  Expires 10/31/19