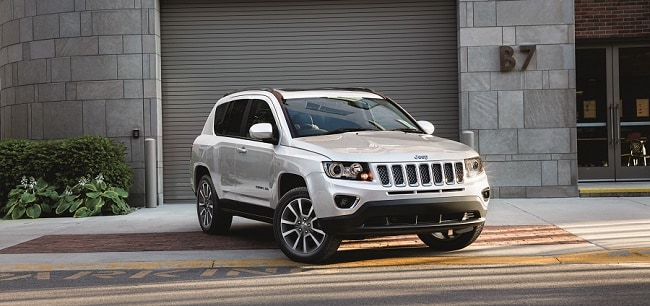 No matter how long you've had your 2018 Jeep Compass, you've already discovered how much fun it is to drive this vehicle around. Whether you're enjoying long country roads or cruising through city streets, this stunning crossover has so much to offer. The last thing you want to see is one of those pesky dashboard warning lights turn on.
Panic might be the first thing that sets in after you see one of those lights illuminate, but that doesn't mean you're in any danger. Plan ahead by arming yourself with knowledge from our 2018 Jeep Compass dashboard light guide. With this, you'll be an expert on your Compass in no time.
Warning Lights
The first kind of lights you need to know about are the warning lights. Usually a warm color, like red or orange, these lights indicate that a problem has arisen and needs to be addressed. Knowing the difference is important, however, as not every problem means you have to drop everything and go to the service center.
Engine Malfunction: When you see the classic engine block symbol, signaling you to check your engine, it means you need critical engine repair. Get this one addressed as soon as possible.
Anti-Lock Brakes: If you see a light containing the letters ABS, it means you have an issue with your anti-lock brakes. As long as your normal brakes are still functioning properly, you'll have some stopping power, but not as much.
Transmission Temperature: This light is somewhat unique. If you see a thermometer inside a gear, your transmission is too hot, and you need to let it cool. If it's a frequent problem, make sure you get it looked at.
Battery Warning Light: As you might expect, this light looks like a car battery and means your battery isn't charging properly. Don't let yourself get stranded; head to a service center immediately.
Indicator Lights
While warning lights can cause a panic, you don't have to worry as much about indicator lights. These lights are just there to notify you of when one of the Compass' numerous features have been activated.
Hill Descent Control: If you see a light depicting a vehicle going down a slope, your hill descent control is on.
Electronic Stability Control: This light looks like a vehicle with curved tread marks behind it, and means your electronic stability control system is activated and working to make sure you maintain control of the Compass.
Service Center at Oliver C. Joseph
If any of the lights on your dashboard indicate you need service, there's no better place in the Belleville, O'Fallon, and Columbia areas than the service center at Oliver C. Joseph. Our highly trained technicians are Jeep experts, and know the new Compass inside and out. We've also stocked our service center with all the latest advancements in auto repair tech.
For all your service needs, whether indicated by your 2018 Jeep Compass dashboard lights or otherwise, we're happy to help. You can even schedule service online. Contact us today and we'll be glad to set up a service appointment for whatever you need.