You're heading to your car after a long day at the office. You put the key in the ignition, give it a turn, and nothing happens. Now what?
At Oliver C. Joseph, we want to make sure that Belleville, O'Fallon, and Columbia area drivers are never stuck in this situation unprepared, so we put together this guide on how to jump a car battery.
Jump Starting a Car Battery in 10 Steps
1.Have jumper cables in your car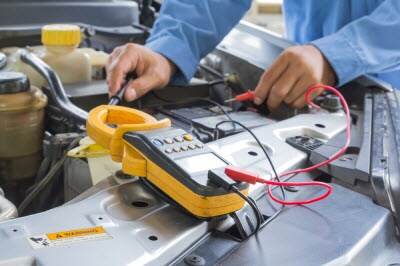 The first step to jump starting a car battery is to keep jumper cables in your car. If you don't have any, you can pick them up at any convenience store or superstore, or at your local Chrysler Dodge Jeep Ram service center.
2.Find a Good Samaritan
Jump starting a car is a two-person job, so you'll need to find someone with a working battery who can help you.
3.Park the cars facing each other and turn off the engine
Park the cars facing each other with the batteries as close together as possible. Apply the emergency brakes and turn off both cars.
4.Locate the batteries
Pop open both hoods and locate the battery. It'll have black (or NEG, or -) on one end and red (or POS, or +) on the other. If you're unsure, consult your owner's manual.
5.Attach the jumper cables
Attach the red cable to the positive (red) end of your car battery. Then do the same for the working car. Next, attach the black end of the cables to the working car's battery. Attach the other black cable to a metal surface on your car as far from the battery as possible.
6.Start the working car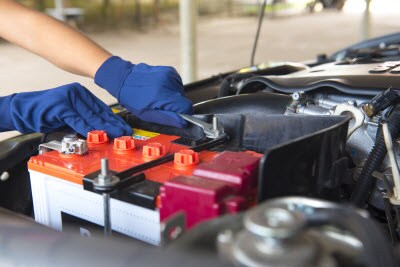 Start the working car and let it run for approximately two minutes as it charges your car's battery.
7.Start your car
Once the working car has been running for two minutes or so, start your car and also run it for approximately two minutes. If your car still won't start, contact your local service center.
8.Remove the cables
Remove the cables in the opposite order of how you attached them.
9.Run your car
Keep your car running for another few minutes to give your alternator a chance to charge the battery.
10.Drive off
Congratulations! At this point, your battery should be fully charged and ready to take on the road.
Protecting Your Car Battery
Needing to jump your car battery can be a nuisance, but there are steps you can take to avoid this situation.
Don't use electrical accessories (headlights, air conditioning) when your car isn't running
Check for corrosion on the battery (or have your local service center check during routine maintenance)
Take longer drives so the alternator keeps your battery charged
Don't park your car in extreme temperatures, as this can damage your battery or exacerbate underlying conditions.
These are simple ways to keep your battery functioning properly, but what if the damage is already done?
Schedule Service for your Battery Today
You don't need to be caught off-guard. Here are some warning signs that your battery may be weak:
Dimmer headlights
Strange noises coming from your air conditioner
Muffled radio volume
Engine struggling to turn over
If you notice any of these signs, it's time to get your car scheduled for service so you can avoid having to jump your car battery.
Drivers in the Belleville, O'Fallon, and Columbia areas can use our online portal to easily schedule service at Oliver C. Joseph today!