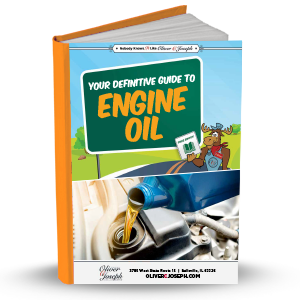 At Oliver C. Joseph, we find that, while many Belleville, O'Fallon, and Columbia area drivers are diligent about having their oil changed, not as many know exactly what oil does.
That's why we created this FREE eBook: Your Definitive Guide to Engine Oil. In this book, we cover important topics like:
Signs You Need an Oil Change
How to Change Your Engine Oil
Conventional vs. Synthetic Oil
And, of course, we'll go in-depth about the overall purpose of oil and how it protects your engine and prevents irreparable damage.
If you're ready to enhance your automotive knowledge and gain a better understanding of your car's needs, download our FREE eBook on engine oil today!