Are you getting bored cruising the streets of Belleville, O'Fallon, and Columbia? It could be because your car just doesn't have the power you need for a thrilling drive. Upgrading to a powerful muscle car could do the trick, but there are quite a few to choose from.
Two popular muscle cars on the market are the 2018 Dodge Charger and the 2018 Ford Mustang. Both have the power you want, but which works best for you? Find out in this comprehensive Charger vs. Mustang comparison by our team at Oliver C. Joseph.
2018 Charger vs 2018 Mustang: Engine Performance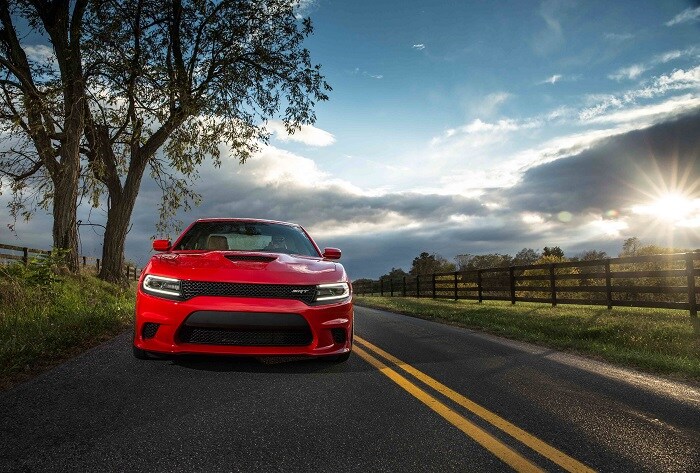 There's plenty of power under the hood in either of these vehicles. Their base trims easily push around 300 horsepower, but only the 2018 Charger features all-wheel drive options. In fact, the Mustang is stuck with rear-wheel drive, no matter which trim you opt for.
The real difference is when you start to go up in trim level. The Shelby GT350 Mustang is capable of producing up to 526 horsepower with its powerful 5.2L V8 engine. While that far surpasses what most other vehicles on the road of any kind can offer, the Charger takes it a step further. If you get the Hellcat trim on the Charger, you'll have an incredible 6.2L supercharged V8 HEMI® that can produce up to 707 horsepower.
Unfortunately, the most powerful engine available in the 2018 Mustang, a 5.2L flat plane crank V8, can only produce 526 horsepower.
Fuel Efficiency
Despite the 6.2L V8 HEMI® in the Charger having such high horsepower, it can still help the car achieve up to an EPA-estimated 22 highway MPG. In comparison, when the Mustang is equipped with its 5.2L V8, it can achieve an EPA-estimated 21 highway MPG. While it might not seem like much of a difference, it starts to add up if you frequently travel on highways. 
And as an added bonus, the fuel tank in the Charger can hold 18.5 gallons, while the Mustang only holds 16 gallons, so you'll definitely spend less time at the gas station with the Charger.
Dodge Charger vs Ford Mustang: Interior Dimensions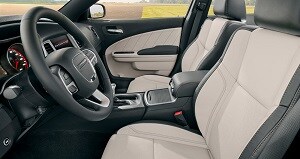 What's inside the cabin is nearly as important as what's under the hood. Both vehicles have a surprising amount of space, but the 2018 Charger has much more room for rear passengers. Those in the back of the 2018 Mustang will have 34.8 inches of headroom and a mere 29 inches of legroom.
Meanwhile, the Charger's rear passengers can enjoy 36.6 inches of headroom and 40.1 inches of legroom. That's more than some luxury sedans can offer. In addition to passenger space, the Charger features more trunk space, with 16.5 cubic feet available compared to the Mustang's 13.5 cubic feet.
2018 Charger vs 2018 Mustang: Verdict
Our Dodge Charger vs. Ford Mustang comparison showed that both vehicles are packed with power, but the 2018 Charger has more. If you want to see everything this powerful and surprisingly roomy muscle car can offer, you need to experience it for yourself.
Come down to Oliver C. Joseph, and find out if the Charger is perfect for thrilling drives through the streets of Belleville, O'Fallon, and Columbia. Our friendly team is available to show you the ins and outs of this incredible vehicle. Schedule your test drive today!