Nobody wants to see an unexpected indicator start glowing on their dashboard while they drive on the roads of Columbia, Belleville, and O'Fallon. It's especially frustrating when you don't know what the light means, specifically. Of course, these lights are important; they're your car's only way to really talk to you and let you know when something's wrong, or that something's working right.
Another thing nobody wants to do is spend an hour digging through their owner's manual to find the meaning of one of these lights. That's why it's helpful to keep a quick guide nearby. Hang onto this handy quick reference guide to the most common Dodge Charger dashboard light indicators you might encounter and what to do if you see one.
Dodge Charger Dashboard Light Indicators
The various Dodge Charger dashboard light indicators you might encounter consist of lights that let you know there's a system working, or that a scheduled maintenance is needed. There are also warning lights that let you know there is a problem that needs to be addressed. Some of these are minor; some make the vehicle dangerous to drive.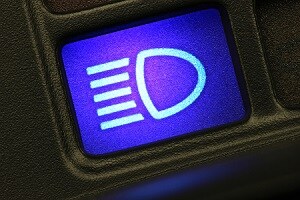 Indicator Lights
Most of the indicator lights let you know that there's a system that's been activated, that it's time for a scheduled procedure, or that there's a minor issue you need to tackle. These can be interpreted as your Charger giving you a "heads up." For example, an icon of a speedometer lets you know your cruise control is on. If there's an arrow pointed at the image, the speed has been set and engaged.
An icon of a headlight symbol with beams coming off it tells you your high beams are on. If the beams are sideways with a line through them, your fog lights are on.
An icon of an open door means one of your doors isn't shut all the way. The letter "A" within a curved arrow is your stop-start indicator, and a swerving vehicle with the word "OFF" under it lets you know your electronic stability system is deactivated.
Warning Lights
These lights are of a more serious nature and they're telling you there's a problem that you need to address right away. For example, an icon of an airbag in front of a passenger that doesn't disappear after a second or two once you start the car indicates a malfunction in your airbag system. The letters "ABS" tell you that your antilock brakes aren't working right. An icon of a battery indicates a problem with your electrical charging system.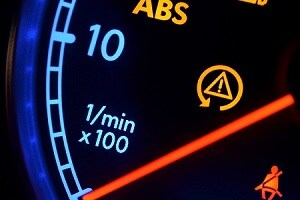 A lightning bolt inside parentheses lets you know there's a malfunction with your Electronic Throttle Control. A car that appears to be swerving is telling you there's an issue with your traction and your stability control system is malfunctioning.
Get Service at Oliver C. Joseph
If you experience these or any other Dodge Charger dashboard light warnings and you're in the O'Fallon, Columbia, or Belleville regions, the best thing to do is get the car into Oliver C. Joseph to have the problem repaired. Give us a call or stop into our service center today and we'll be happy to help diagnose and repair the problem.