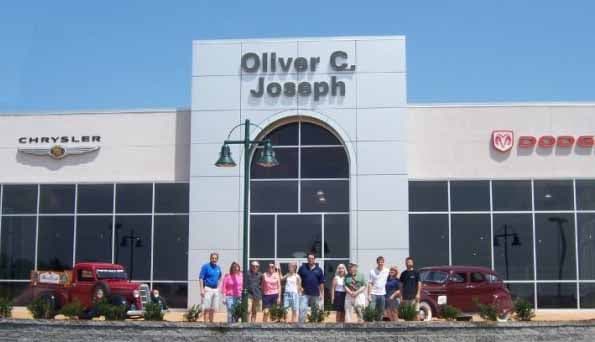 Oliver C. Joseph, the World's Oldest Chrysler, Dodge, Jeep & Ram Dealership, is Conveniently Located in Belleville, Illinois just 15 minutes from the St. Louis Gateway Arch and Columbia IL.

If you're going to buy a new Chrysler, Dodge, Jeep or Ram, a used car, truck, van or SUV, or just take your car in for routine maintenance or an auto repair, you've found the right place. "Why OCJ?" you may ask.

We'd love to tell you about how, since 1914, we've treated every customer by the golden rule, but come on, no one can trust a car dealer right? .... Wrong!
     We're a group of hard working Americans. We know years of mistrust & miscommunication, along with a few rotten apples, have given car dealerships everywhere a bad name. In fact on of the most searched terms on google is "Why are car dealers so sleazy?" We work hard to overcome these stereotypes by doing as much good as we can from getting a single mother into a car that fits her budget when she never thought she's get a car loan on her own again to our community involvement and donations; from fixing that one thing the shade tree mechanic didn't have the right tools for to locating a hard to find part for Dad's 1968 Chrysler.
      Many of our employees work well over 40 hours a week out of their passion for helping. We know in over 100 years with hundreds of thousands of cars bought, sold & serviced we are bound to have a few people for which we were not able to rectify miscommunication or shortfalls, but please know we put our hearts into making every experience the best by
treating others as we would like others to treat us.
Oliver C. Joseph,
 is the World's Oldest 
Chrysler,
Dodge 
, 
Jeep 
 and 
Ram 
 dealership. For over 100 years we have been serving the Belleville, Ofallon, Edwardsville and Fairview Heights areas. Since 1914 we've been providing a wide assortment of new and pre-owned Chrysler, Dodge, Jeep and Ram vehicles to Belleville and the surrounding Metro St. Louis areas. 
We know you won't take our word for it, so here's what others have to say. We place before you the most common review websites so that you may form your own opinion.
Google Reviews 
  | 
Cars.com Reviews
  | 
Yelp Reviews
We thank you for your consideration & look forward to welcoming you to the OCJ family soon!