When you're looking for a new vehicle, there an array of factors that you need to consider, including what make and model vehicle you want to drive. Out of all the different vehicles you could choose, your best option when you need a dependable vehicle that provides high-end features is a Chrysler.
Chryslers are some of the most exciting automobiles on the road today, providing thrilling performance, irresistible style and can't miss safety and tech features. If you're interested in driving a Chrysler model, then you need to start shopping at a top local Chrysler dealer.
Browse Our Exciting Chrysler Inventory
If you visit a dealership with a limited vehicle selection, it can be hard to find the model that's right for you. Fortunately, when you shop at Oliver C. Joseph, you'll have access to a wide inventory of new Chrysler and used models, making choosing your next vehicle fast and fun.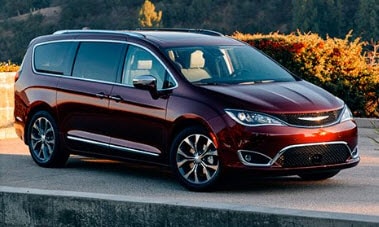 Take a walk around our lot and you'll see some of the best automobiles on the market today. While we offer a range of excellent vehicles, we are particularly excited about our Chrysler models, which includes the high-quality 300 sedan and the versatile Pacifica minivan. Car shoppers from communities like Belleville, O'Fallon and Columbia can visit our dealership and shop for their next vehicle in an inviting atmosphere that makes car buying easy.
Dealership Services We Offer
In addition to an array of new and pre-owned vehicles, the right Chrysler dealer near me will provide a
good selection of services and a staff that removes the stress of the car buying process. When you shop at Oliver C. Joseph, you'll have access to some of the most dependable dealership services around, as well as a dealership team filled with compassionate and knowledgeable professionals.
The cornerstone of our dealership staff is our excellent sales team. Every sales representative at our dealership is excited to work with you and can tell you about the best Chrysler models in our inventory and can discuss some of their best features.
If you're like many car buyers, then you might be intimidated by the process of applying for a car loan. Luckily, at our dealership, you'll be able to work with our high-class financing department that can explain the process of applying for an auto loan and help you choose your perfect funding option.
Last, but certainly not least, is our first-rate service and parts department that provides reliable vehicle maintenance. When it's time for a regular oil change or an important repair, our service and parts department can work on your vehicle and get you back on the road.
Find a Chrysler Dealer Near Me
Oliver C. Joseph is the obvious answer to the question, What's the best Chrysler dealer near me? We enthusiastically serve car shoppers from communities such as O'Fallon, Belleville and Columbia, and we would be honored to help you search for your next car. Drop by our dealership today so that we can show you our top new and pre-owned models and discuss your automotive needs.
Chrysler Dealer near East St. Louis