No, one enjoys when a dashboard light illuminates in their car, but it sure is helpful to know what the light is signaling. Dashboard lights are our car's way of communicating with us-letting us know when something could be wrong or when one of the car's great features is engaged.
 Our team at Oliver C. Joseph has created this quick 2018 Chrysler 300 dashboard light guide to help drivers in the Belleville, O'Fallon, and Columbia areas understand the language of their car.
Red Warning Lights
Red usually signals a stop or emergency, so when a red warning light appears on your dash, you should pay attention. Make sure to heed any of the following red warning lights as you'll need to have your car taken to your nearest service center to avoid more severe issues.
Air Bag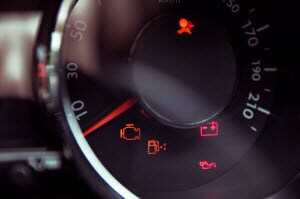 This light resembles a passenger with a balloon in their face and indicates a faulty air bag. Once it detects a fault in the air bag, it will illuminate and stay on until the fault is cleared. Get to your nearest dealer as soon as you can should this light appear, since passenger safety could be compromised.
Brake
This light gauges a few brake system functions including the brake fluid level and parking brake application. If the BRAKE light turns on and both the brake fluid is full and parking brake disengaged, this could mean there is a problem with the brake hydraulic system. You'll want to contact your Chrysler dealer should this occur.
Door Open
You'll be able to spot this warning light as it's simply a car with four open doors. It indicates that a door is ajar and not fully closed.  
Engine Coolant Temperature
This light looks like a thermometer that's under water. Its illumination should be taken seriously as it warns of an overheated engine. An overheated engine can cause irreparable damage to your car, so it's best to safely pull over and call for service if it illuminates whilst driving.
Yellow Warning Lights
These indicators aren't as grave as their red counterparts, but they should still be acknowledged and tended to in a timely manner.   
Low Fuel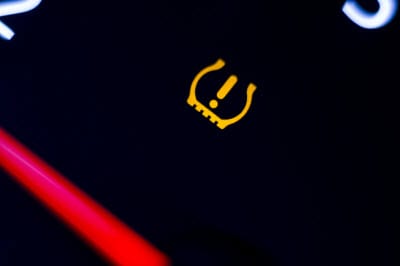 If this gas pump symbol illuminates, that means it is time to hit the gas station for fuel! Once the symbol glows yellow, your fuel level has reached a lowly 1.9 gallons.
Tire Pressure Monitoring System (TPMS)
It resembles an exclamation point in parentheses and indicates that your tire pressure level is lower than the recommended level. Should this symbol illuminate, you'll want to stop by your nearest gas station or service center to inflate the tires.
Listen to Your Dash Lights
In addition to the red and yellow warning lights, there are green, yellow, white, and blue indicator lights that communicate when one the car's helpful features is active. Now that you know how your car communicates through its dashboard instrument panel, if one of the warning lights in your 2018 Chrysler 300 illuminates, seek service when you can.  
If you are a Belleville, O'Fallon, or Columbia area driver in need of service, know our service team at Oliver C. Joseph has you covered.