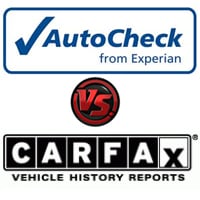 AutoCheck
    On April 1, 2013, we at Oliver C Joseph began offering AutoCheck reports to our customers on all pre-owned vehicles. We previously offered CarFax reports on these vehicles. As we always strive to provide our customers with the best service, value and information, we feel this is a great move.

Experian
     We understand you may not know the name AutoCheck, but you are more likely to know their parent company, Experian - known for their credit reports. We wanted to provide you with more information on what the new logo you see on our site means for you and why we feel it's better for our customers.

CarFax
    CarFax,  and the beloved Car Fox, have been around since 1986. They have built a great brand and raised awareness about vehicle history. Though there is no way to know what the past life of a car, truck or SUV included with complete certainty, carfax has created the image they can provide more information than any other source, which is not really true.