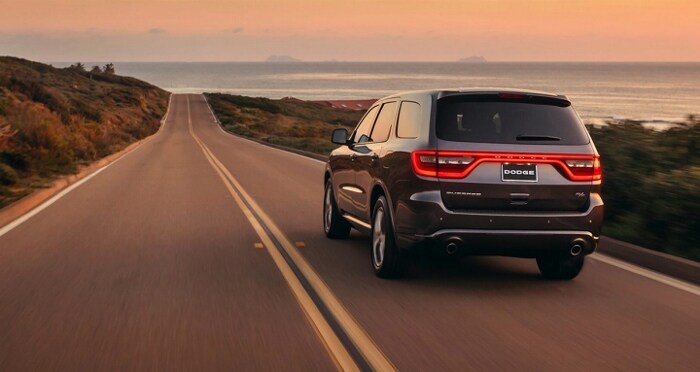 There is a lot of buzz regarding the upcoming 2018 Dodge Durango, especially regarding the R/T trim. So, what do we know about this model so far?
It has been announced that the 2018 Dodge Durango R/T will have a similar SRT package available for the 2018 Jeep® Grand Cherokee SRT. This includes multiple cosmetic upgrades, such as a three-vent hood similar to the one found in models powered with a Hellcat® engine. Other additions include LED fog headlights and a redesigned front fascia.
The SRT package for the Dodge Durango will not come with the 6.4-liter HEMI® engine. Instead, the engine will be a 5.7-liter HEMI V8 engine, the same one used for the 2017 Dodge Charger and 2017 Dodge Challenger R/T trims.
The SRT package, though, is an option that provides many upgrades over the standard GT trim. The package is also available in every drivetrain of the Dodge Durango. In addition, buyers will also have the option to opt for the B5 Blue color palette, previously only available for the Dodge Charger.
No matter the trim, all variations of the 2018 Dodge Durango comes with a backup camera and a new electronic T-shaped shifter as standard equipment.
The Dodge Durango is currently in its third-generation. Not much changes have been made since its inception in 2011 other than a mid-cycle facelift. Thia new SRT package, however, is major news and one where auto enthusiasts are awaiting further details.
You can wait a bit longer or stop by Oliver C. Joseph today to see the current
2017 Dodge Durango
. If you are interested in other SUV models, then check out a
Jeep for sale
on our lot.