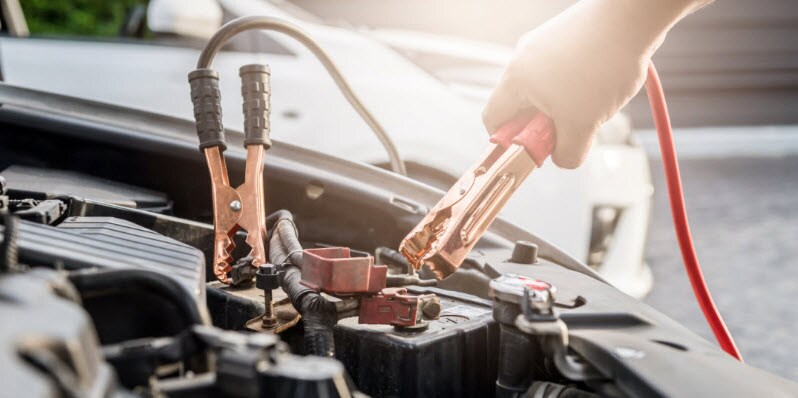 If you're in need of battery repair near the Belleville, O'Fallon, Scott Airforce Base, and Columbia areas, the qualified team at Oliver C. Joseph has your back. Your car battery is essential to your car's overall performance and is instrumental in starting the engine, so we want to make sure it's taken care of.
From professional diagnosis, to battery repairs, to battery replacements, our factory-trained and -certified technicians will help get you energized and back on the roads.
Car Battery Life Span
Your car battery can live a good long life of anywhere from 3-5 years, depending on your driving conditions. Drivers in extremely warm climates may experience a shorter battery life than those in colder climates. Infrequent use and regular short trips also tend to shorten your battery's lifespan.
Your car will also give you warning signs when its battery is due for repair or is in need of replacement.
Signs You Need Battery Repair
While your car failing to start is a clear indicator that your battery needs to be repaired, there are several other warning signs your car may give you before that happens, including:
Slow engine crank
Electrical issues (like dim headlights or a malfunctioning radio)
An eggy smell
You may also notice a red light that looks like a battery illuminated on your dashboard. This is the battery charge warning light and can indicate that the battery is not charging properly or that there's a possible problem with the electrical system. If you see this light, schedule an appointment with a technician as soon as possible.
Have your Battery Tested Regularly
While it's always important to pay attention to warning signs from your car, it's ideal to have your battery repaired before you reach that point. We recommend having a certified technician perform a conductive test with every oil change-approximately every 7,500 miles-just to be on the safe side.
You should also be sure to receive a professional diagnosis of any mechanical issues you experience, even if you notice the battery repair warning signs we listed above, since they could also imply an issue with the alternator or some other system altogether.
To learn more about your car's battery, check out the resources linked on this page. If you're in need of battery repair, want to have your battery tested, or need an expert diagnosis, come see the team at Oliver C. Joseph, near the Belleville, O'Fallon, and Columbia areas.
We offer a convenient online portal, so make your battery repair appointment today!